In the late 1950s, ArmaLite Inc. developed the first AR-15 as a military rifle, and today the popularity of this rifle has turned AR-15 rifle into a household name in the firearm industry. These lightweight semi-automatic rifles have been around for more than 60 years now. The semi-automatic function makes the AR-15 a widely used weapon for hunting, shooting competitions, law enforcement, and target practicing.
The Need For AR-15 Suppressors
A suppressor also known as a silencer helps reduce muzzle blast, recoil, and other apsects when a gun is discharged. There are several factors to consider when choosing a specific AR-15 suppressor. They seem similar on the surface, but there's a significant difference between what a SWAT or military officer needs on his CQB rifle and what a hunter would need for the AR-15 shooting practice. In this blog, we're discussing the three AR-15 suppressors by Stealth Project.
Any shooting experience can be enhanced with a Stealth Project suppressor, as it reduces blowback and allows no damage to your hearing when taking a shot, helping to level up your game. Typically, suppressors are manufactured in stainless steel or titanium baffles, but Stealth Project Suppressors utilizes a patented helical core designed with Accelerated Gas Technology. These suppressors are user-service friendly, which means any shooter can clean them, there's no chance of baffle strikes, there's no point of impact change when transitioning from not using a suppressor to using one. In addition, our suppressors have minimal blowback due to their helical design accelerating gases forward instead of back towards the shooter. Keeping your guns cleaner!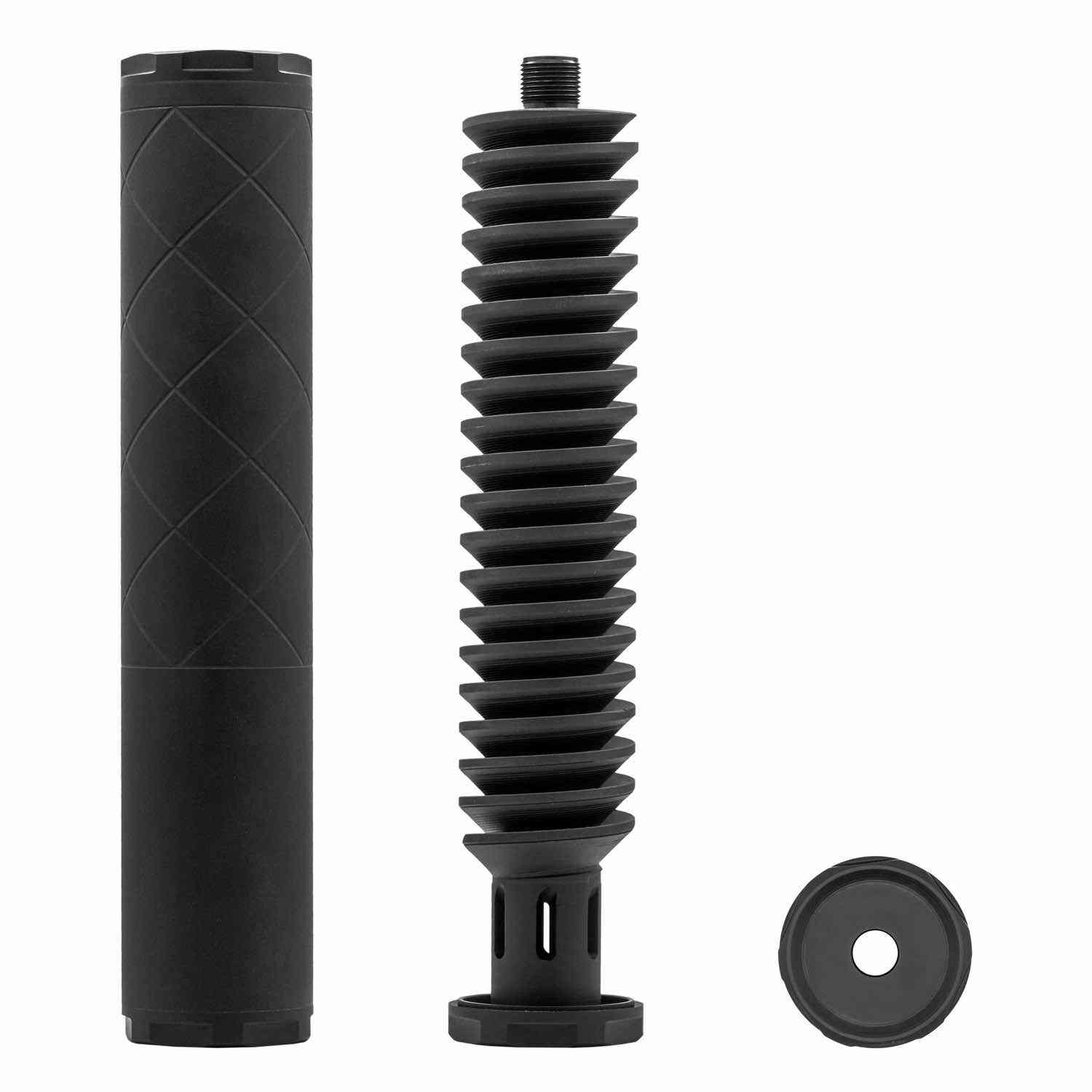 The Maverick titanium series and Bolt & Fusion aluminum suppressors have Accelerated Gas technology which keeps gasses moving forward instead of back towards the shooter and your chamber. Stealth Project's AR-15 5.56/.223 suppressors effectively reduces the recoil by 40-50%, which means the shooter's experience is enriched with each shot. This multi-caliber suppressor is serviceable easily and has no baffle strikes. To assist a shooter during the shot, the Accelerated Gas Technology pushes the front of the suppressor forward, making your recoil and gasses minimized towards you. The suppressor best performs with the combination of Stealth Project muzzle device, making your suppressor easily detachable. These suppressors work in harmony with the weapon and operator, eliminating typical issues in the traditional baffle technology. Each of the three series suppressors works best with their respective caliber. The Bolt 5.56 is best maximized when a .17 caliber or .22 calibers inserts are available. The Fusion 5.56 is the quietest option for .22LR, but even a 7.4oz, it can still handle your 5.56 or 22-250, making it ideal for the AR-15 shooter. The Maverick QD Titanium is finished in Black Cerakote, Flat Dark Cerakote, and Battleworm color, perfect for 5.56MM or .223 Calibers.
Manufactured in the United States, these 3 suppressors provide world-class quality that won't make you buy another suppressor. They come with a quick detachable mount or direct thread, but the muzzle device is sold separately. The best thing for Stealth Project suppressors is whatever material they are made with, be it aluminum or titanium; the sound dB is the same for all three with lesser sound and quick shot. The cores are finished in steel, aluminum, or titanium, guaranteeing the best results and optimum level of customer satisfaction in every shot you take!
Get a Stealth Project AR-15 Suppressor Today
Whether you're a shooting enthusiast, hunter, or from the military and Law Enforcement in the United States, using a suppressor that you can trust is a must!
Based in Wisconsin, Stealth Project is creating the best suppressors globally, utilizing patented helical core designed with Accelerated Gas Technology. Our suppressors have no baffles, reduced gas blowback, minimal bolt velocity increase, and caliber inserts for optimal sound reduction depending on the caliber of your AR-15. Stealth Project Suppressors ™ work in harmony with the firearm system and the operator to eliminate typical issues encountered in the traditional baffle technology.
With Stealth Project, A new era of Suppressor Technology begins.